Design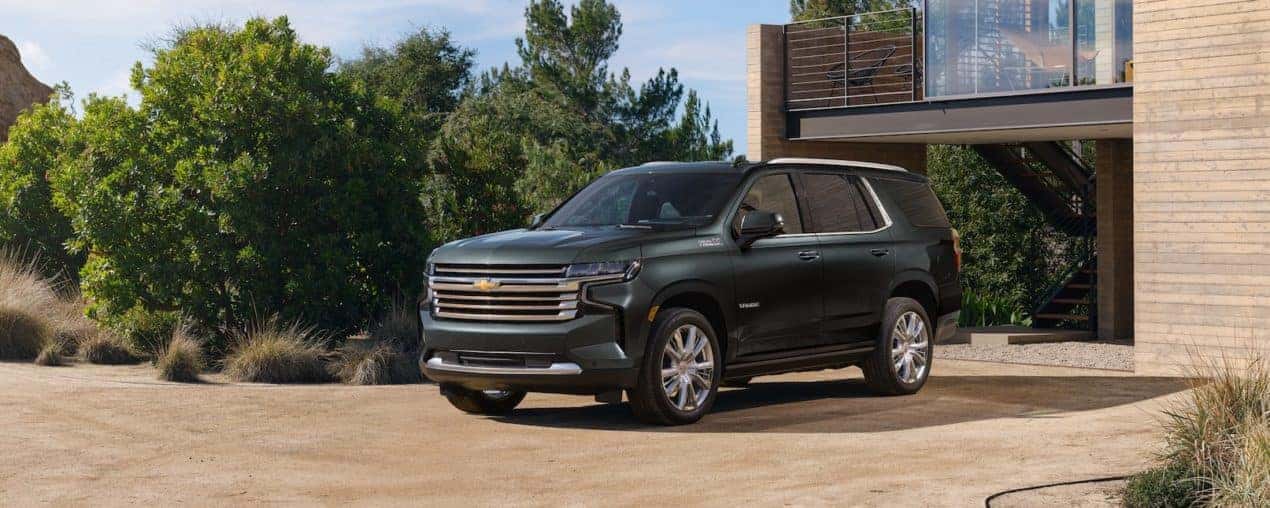 Designed to Maximize Comfort
It's wonderful to have stylish and refined design cues, but if it comes at the cost of practicality, what's the point? Well, what if you could have both the refined design features and the practicality at the same time? It is possible with the 2022 Chevy Tahoe. In so many ways, practicality begins with space, which is why the Tahoe maximizes interior space, both for passengers and cargo. The All-New 2021 Tahoe increased the SUV's cargo capacity by sixty-six percent thanks to its new chassis design, and the 2022 Tahoe continues this trend by providing more cargo space than any Tahoe you've ever known.
The Perfect Amount of Space for You, Your Passengers, and Your Stuff
With a wheelbase of 120.9 inches, the 2022 Tahoe provides a maximum cargo volume of 122.9 cubic feet. For those of you who have driven Tahoes from previous model years, you know what a big increase this is. To those of you who have never driven a Tahoe, you'll be amazed at the magnitude of this space. This cargo space will be even more flexible and accessible through the presence of sliding second-row seats. You won't have to be nearly as selective with packing in the 2022 Tahoe because you'll be able to fit more cargo with more passenger comfort.
Speaking of passenger comfort, while a generous cargo volume is very helpful, your cargo won't get uncomfortable if it's too cramped, but your passengers will! Thankfully, this shouldn't be an issue with plenty of legroom at 44.5 inches in the front, 42 inches in the second row, and 36.7 inches in the third row. The third-row legroom is where you will mostly experience the increased space; the row that is notorious for being the tightest fit may now be a favorite for those who like a little more isolation.
The interior space is only the beginning! There are plenty of vehicles that offer generous amounts of space but frightfully ugly design features. The Tahoe presents itself not only as a "nice" vehicle but as a true luxury vehicle. We think you'll like what you see quite a bit, and you'll enjoy it even more with plenty of cargo room and legroom.
Technology

Innovative Technology the Whole Family Can Enjoy
When you've got the whole family loaded up in the car, whether it's a five-minute drive to the grocery store or a five-day road trip, sometimes you need a little assistance. The 2022 Chevy Tahoe can provide this assistance, thanks to Chevy's leading and innovative family-oriented technology. What once seemed like far-off features that drivers could only wish for are now realities in this exciting SUV.
Of course, the center of the vehicle's technological activity is the now-commonplace infotainment screen, and you will have absolutely no problem finding it since you can get it as large as 12.3-inches diagonal. For 2022, however, this infotainment center is expanding its capability. While it continues to provide Apple CarPlay and Android Auto, it adds to its checklist Google Built-In. For those of you who are not yet familiar with this brand-new technology, it turns your vehicle into a smart vehicle by programming Google into the vehicle itself rather than as an available application. With Google Built-In, you'll be able to access navigation through Google Maps, which will be a huge help since Maps' excellent programming allows you to have live traffic updates. Additionally, you'll be able to access everything else that Google offers, including Google Play. It even allows you to change the vehicle temperature on a hands-free basis, so even Google is excited enough about the 2022 Tahoe to expand its own horizons.
Features to Keep You Safe and Alert
Another exciting addition to the Tahoe's technology experience is the head-up display. This 15-inch diagonal display provides a multi-color translucent projection of vital driver information, including turn-by-turn navigation, phone calls, and even safety alerts if you choose. Keeping your head up while on the road is vital to an effective driving experience because nothing is more important than keeping the family safe.
Keep a Watchful Eye on Your Teen Driver
When it comes to safety, one of the big things to think about is keeping young drivers safe. As much as we dislike admitting it, kids get older and eventually start to drive; we won't always be with them while they do, which is why you want to make sure that your vehicle maximizes safety for your kids who are just learning to drive. Chevy has one of the most innovative technology packages for new drivers in Chevy Teen Driver. This package allows your teen to have their own specially programmed key fob, which is programmed with parent-selected restrictions, including maximum speed, acceleration, audio volume, and more. Additionally, Teen Driver provides a driving report card so that you and your teen can discuss driving habits and improve over time. Letting go is always difficult, but you'll be more assured of your child's safety with the Teen Driver package.
Technology can make or break your experience with a vehicle, and the right balance needs to be found; a vehicle that provides too little technology won't be helpful to you, but a vehicle that is too high-tech will get annoying and impractical over time. The 2022 Tahoe finds the right balance, and we think you'll be driving easy with these helpful technology features.
Performance

An Assortment of Powerful Engines
You don't need to be a car buff for performance to matter. Performance features can drastically affect your day-to-day experience in your vehicle. So, whether you're a car enthusiast or just trying to get the kids to and from school each day, the 2022 Chevy Tahoe will be right up your alley.
If you have specific desires for your vehicle's engineering and performance, you'll have no problem getting what you want, as the 2022 Tahoe provides you with three engine options. With the 5.3-liter EcoTec3 V8 engine, you'll be able to perform at an impressive 355 horsepower and 383 lb-ft of torque. The EcoTec3 V8 increases its size to 6.2-liters in order to provide you with 420 horsepower and 460 lb-ft of torque. That's a whole different ball game. Seems like a no-brainer, right? But, the big benefit to the 5.3-liter V8 is that it provides a little more strength when it comes to towing and payload.
With 8,300 pounds of towing capability and 1,671 pounds of maximum payload with the 6.2-liter V8, you'll be able to haul stuff around very capably. But, the 5.3-liter engine takes things up a bit with 8,400 pounds of towing capability and 1,834 pounds maximum payload. This is not a tremendous difference, but it is enough of a difference that if cargo-hauling is a priority for you, it is something to consider. Because they are both V8 engines, you can't make a wrong decision either way, but it is important to identify your priorities: the 5.3-liter focuses on cargo-hauling while the 6.2-liter focuses on sheer power.
Harness the Power of Diesel
There is a third engine option that changes the game. With the 3.0-liter Duramax Turbo-Diesel I-6 engine, you'll be looking at a slightly smaller horsepower capacity of 277, paired with a whopping maximum torque capacity of 460 lb-ft of torque. The big and exciting benefit of a turbo-diesel engine is how efficient diesel can be, especially over the course of time. Diesel gives you more bang for your buck because it gives you more energy out of each gallon. So, if torque is your thing and you want to stretch out your gas station stops, then the Turbo-Diesel engine will serve you well.
The Tahoe is not a one-size-fits-all vehicle; Chevy wants you to choose your own experience, and you'll be amazed at how versatile the 2022 Tahoe can be.