Chevrolet Recall Information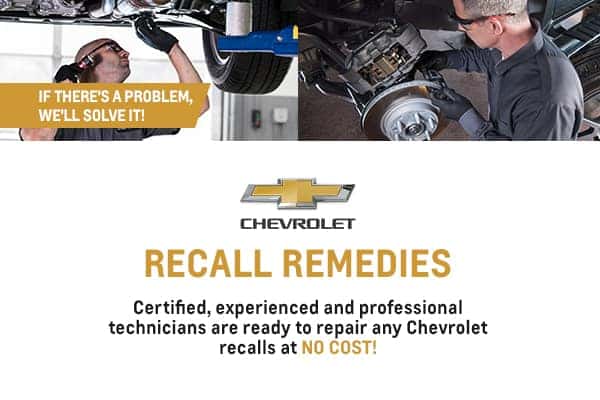 ---
If you just received a recall notice from the NHTSA (National Highway Traffic Safety Administration) for your Buick or Chevrolet vehicle and you're not sure what to do, our experts are here to assist. A recall notice may seem worrisome at first glance but as long as you get it addressed by someone in our service center, you'll have nothing to worry about.
However, it's recommended that you address the recall immediately before heading back out onto the Hopkinsville roads. Fortunately, we're here to assist so you can continue to tackle your Bowling Green adventures with little worry. If you've just received a recall on your Buick or Chevrolet, work with Newton Chevrolet Buick today and schedule a service appointment!
Recall FAQs
If you've never had to deal with a recall before, you may have some questions about recalls and what the process is like to get the recall addressed. Our professional team of service experts is here to address your concerns and ensure you can continue to enjoy your vehicle for many years to come around Clarksville. Take a look below to discover the answer to some recall frequently asked questions:
What Is a Recall?
Before a Buick or Chevrolet is sent to our dealership, it's been rigorously tested to ensure that you're getting a vehicle to can count on day in and day out. However, there may be some instances where an issue is discovered after the vehicle has had more extensive use. If Chevrolet, Buick, or the NHTSA discovers any issues with your vehicle, you'll be sent a recall notice that'll be addressed free of charge by our Russellville service center.
Why Does My Buick/Chevrolet Have a Recall?
Although we've gone over what a recall is, are you wondering why your vehicle has a recall in the first place? Recall notices are typically issued where there's a safety concern or any other issues. Buick, Chevrolet, and our team are dedicated to ensuring your vehicle performs exceptionally well so if there's a recall notice on your vehicle, we recommend you bring it into our service center immediately.
Can I Check for Recalls On My Buick or Chevrolet?
Yes! Typically, you'll receive a recall notice in the mail but you can also check for recalls on your Buick or Chevrolet online as well. All you need is your VIN (Vehicle Identification Number) which is typically located on the lower driver-side corner of your windshield. You may also find your VIN on your vehicle registration. Once you have your VIN, you can visit the NHTSA website or the Buick and Chevrolet website to confirm if your vehicle has any open recalls.
What's Next If My Buick/Chevrolet Has a Recall?
If you have a recall on your Buick or Chevrolet, it's best to bring your vehicle into our service center as soon as possible. As we mentioned, recalls are typically issued when there's a concern with your vehicle so it's best to bring it into our service department right away. Recalls are addressed free of charge and can involve everything from a repair to a replacement or the affected component.
Newton Chevrolet Buick Can Help You With Recalls Today!
If your Buick or Chevrolet has a recall, we promise to get to it in a timely manner so you can get back to your Russellville travels without any issues. You can count on us for assistance with your recall so please don't hesitate to let us know if you have any questions or concerns!
Mon - Sat

9:00 AM - 7:00 PM




Sun

Closed
Mon - Fri

7:30 AM - 5:00 PM




Sat

8:00 AM - 2:00 PM




Sun

Closed
Mon - Fri

7:30 AM - 5:00 PM




Sat

8:00 AM - 2:00 PM




Sun

Closed